Wanneer u zich zoals ik bezighoudt met executive search, spelen gesprekken met kandidaten een belangrijke rol. Hierbij krijgt u soms de vraag om feedback te geven. Dat beschouw ik als een compliment, omdat daarmee impliciet wordt aangegeven dat men u vertrouwt. Het geven van feedback is hier onderdeel van. 
Er zijn verschillende motieven voor feedback. Na het zien van een korte inleiding van Roos Vonk onderscheid ik de volgende vier motieven:
Self-assessment: ik ken de kandidaat zo goed dat ik een eerlijke terugkoppeling kan geven, waarin de valkuilen én de positieve zaken aan bod komen.

Self-enhancement: ik benadruk de positieve kanten van mijn observatie over de kandidaat.

Self-clarification: ik bevestig de positieve beelden die de kandidaat al van zichzelf heeft en maak er een feest van zelfherkenning van in positieve zin.

Self-improvement: de terugkoppeling naar de kandidaat kent een lerend motief, zodat er zeker ook ontwikkelpunten aan bod komen in de feedback.
Laten we voorop stellen dat ons EGO het meest warm loopt voor self-enhancement. De reden hiervoor is dat we wanneer we als mens (lees EGO) kritiek te horen krijgen allerlei 'filters' aanzetten. Feedback geven en invloed hebben zijn hierdoor grote uitdagingen.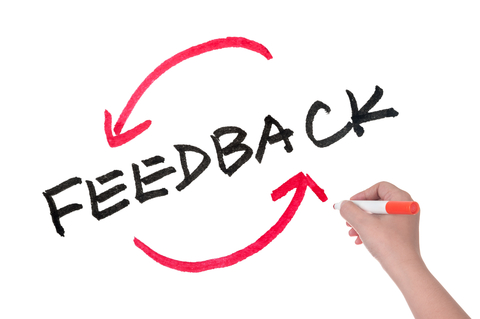 Invloed hebben met uw feedback
U kunt invloed uitoefenen met uw feedback door de vier bovengenoemde motieven in te zetten. Start vanuit het motief self-enhancement. De ontvanger van feedback (EGO), voelt zich fijn en stelt zich open. Hij of zij kan nu de EGO-bril afdoen en de stap naar self-improvement (zelfverbeteringsbril) zetten. Daarmee is de kans groot dat de feedback aankomt.
Wanneer het gaat om het zetten van verdere stappen in hun loopbaan denken mensen vaak groot – maar vaak blijft het daarbij. Wanneer ik feedback geef, schilder ik het grote plan en de samenhang voor de toekomst. Met als doel dat de kandidaat uiteindelijk, stap voor stap, zijn of haar obstakels overwint.
Ja, feedback geven kost tijd: zowel het voorbereiden hiervan als de daadwerkelijke afspraak. Maar uiteindelijk is een opvolging veel efficiënter, omdat u de kleine stappen daadwerkelijk kunt bespreken. 
Hoe kunnen mijn collega's en ik u helpen? Stuur een e-mail naar michael.boeren@hightouchglobal.com, dan maken we een afspraak voor een ontmoeting.